Table of Content
Dating apps: Near Future and Beyond
Along with the tech influx in our lives, it is only natural that it took the dating world by storm. With the vivid convenience and excitement that they bring to a user's experience, dating apps are a new favorite on the market. Thus, when it comes to dating apps, the odds remain in favor of the online dating business. Revenue in the Online Dating segment amounts to US$2.98bn in 2023 with an annual growth rate (CAGR 2023-2027) of 3.28%, states a Statista report
It is the business of love, and it is all set to bloom in the times to come. Investors are taking notice of the market in its bloom as analysts estimate the global online dating market could cross $12 billion in two-three years from now. Add to its bright prospects, tailwind factors like untapped markets, the launch of new apps based on innovative dating app ideas, increasing spending power of the millennials, delay in life milestones as well as working longer hours, the future seems bright for the online dating industry on the whole.
How Online Dating App Businesses Bring Home Revenues?
If you are still wondering, we would like to inform you that dating apps do make money and loads of it. Broadly speaking, the business model for dating apps falls into three broad categories namely:
a.) Subscription Plans
The subscription model allows users to use the app for a fee. It is usually for a set period of time (usually a week or a month). The payments remain typically recurring and become a higher barrier to entry for use. However, people value dating apps with subscription-based models because these apps are focused on finding people a serious relationship.
b.) Freemium Model
The freemium model allows users to sign up and use the basic functionalities of the app for free. The app generates revenue either through advertising or unlocking enhanced features for a fee. In the absence of a barrier to entry, freemium dating apps are highly scalable and enjoy a loyal and active user base until they introduce paid features. In-app advertising is often used to generate shared revenue with advertisers from clicks, views or transactions.
c.) In-app Purchases
Though basic membership is free in this type of model, users often pay for enhanced features. This model is perfect for turning any dating app ideas into big businesses which intend to build its user base and loyalty before turning on the monetization engine.
Top Dating Apps of 2023
Bumble
Bumble is a dating app with a strict timer that requires women to message first. If they fail to get a message back within 24 hours, the recipient of the message loses the potential dates.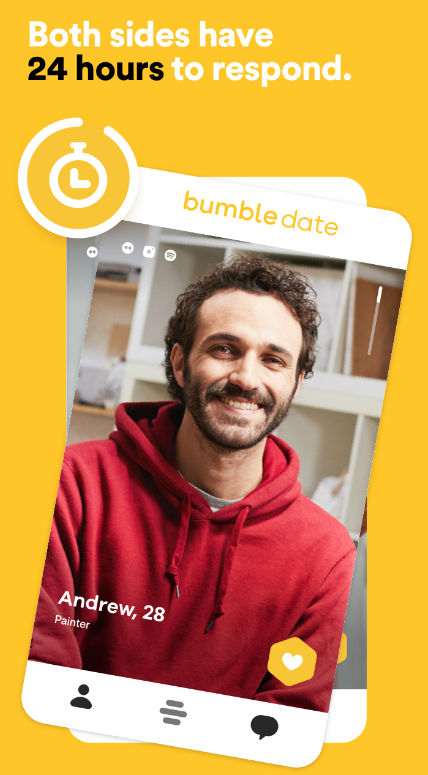 Tinder
Tinder is a go-to dating app for a hookup, friendships and everything else. It features brief profiles to streamline decision making.
OkCupid
OkCupid features lengthy profiles and churns out reasonable match/enemy percentage ratio on profiles to help people assess compatibility based on interests.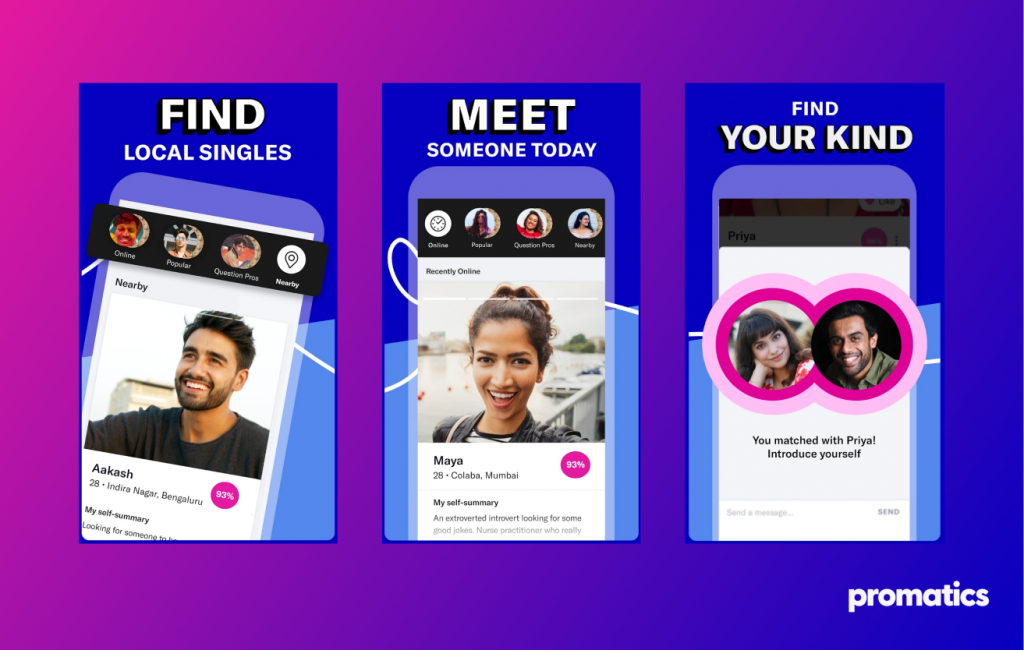 Hinge
Hinge focused on standard connections and mutual friends that you and your potential partner shared on social media. With engaging user profiles, it helps users find serious relationships.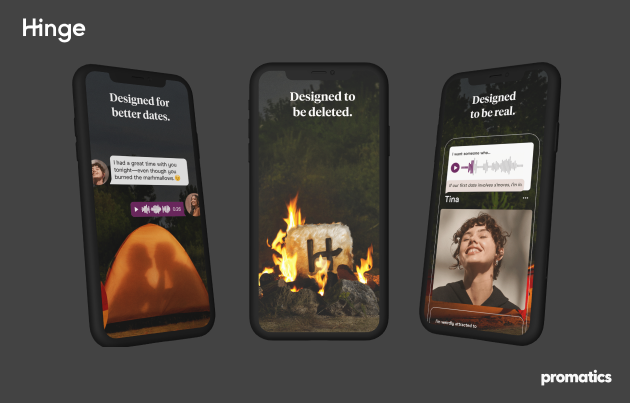 Coffee Meets Bagel
Get better-quality matches with coffee meets bagel. The app suggests ice-breakers for first messages and features detailed profiles.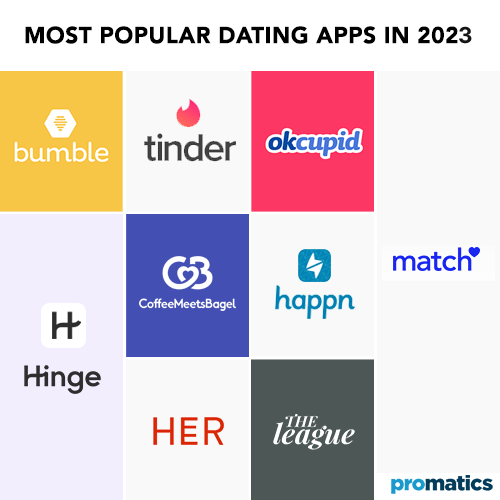 Happn
Happn is an app that matches you with people who are located nearby. It's helpful for people who want to meet someone more organically.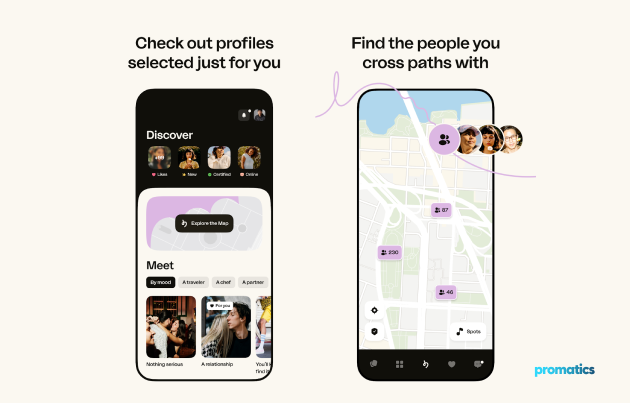 The League
An "elite dating app" that requires applications from users with details like job title, college and LinkedIn profile.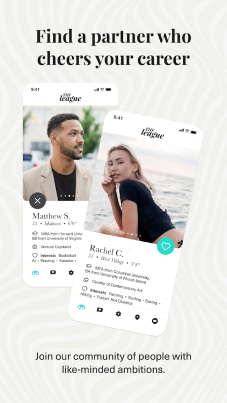 Her
A dating app for LGBTQ specifically, Her caters to lesbian, bisexual and queer women.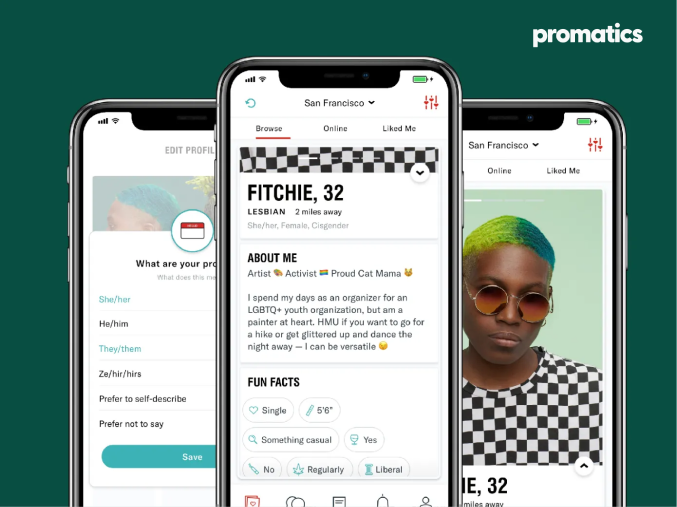 Match
Match is a paid app that helps people find relationships on a serious note.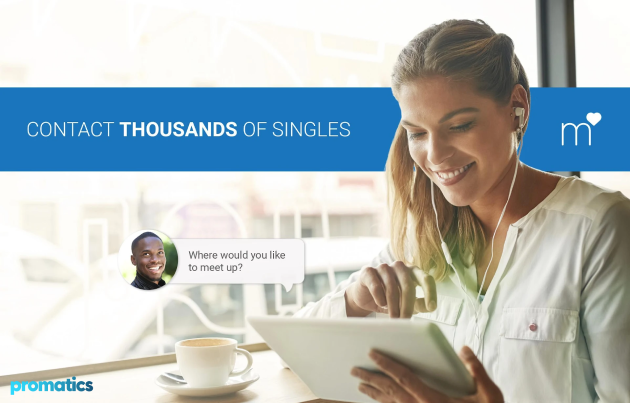 Worldwide market share of Dating Apps in 2023
When it comes to dating apps, Tinder is the king and was responsible for approx. 16% of the online dating market, according to a Statista report. The second and the third positions are taken by Bumble and the Chinese app Badoo with roughly 9% and 5% market share respectively. Interestingly over 45% of the market share is controlled by the smaller apps which are niche and cater to specific target audience. You may have not heard many of them but they are in business too. Here is the state of worldwide market share of dating apps
| Brands | Market Share |
| --- | --- |
| Tinder | 16% |
| Bumble | 9% |
| Badoo | 5% |
| Hinge | 5% |
| Tantan | 5% |
| MeetMe | 4% |
| Plenty of Fish | 3% |
| MOMO | 3% |
| Soul | 3% |
| Grindr | 2% |
| Others | 45% |
10 Twists You Can Bring to Your Dating App to Make it Shine
1.) Dating App Based on Birth Horoscope/ Natal Chart Matching
The belief in horoscopes and natal charts is a big thing in many south Asian countries and people who belong to the region. Slowly and steadily, the idea is catching up in the west as well. A dating app based on natal chart and birth horoscope will be the perfect solution for people looking for long term relationships online.
2.) Dating App for People on the Wrong Side of 50
Dating app ideas which tends to seniors? Really? Don't be surprised but as we age, it tends to get a bit difficult to meet new people and make new friends organically. A platform-specific to the needs of the middle-aged men and women can help them find a partner quickly. A dating app that caters to people over the age of 50 or age 40 can be a welcome idea for singles looking to mingle in the later phase of their lives.
3.) Dating App that Segregates Profiles According to Profession
Very often, our work-life effects somewhat strain our personal lives as well. People from different kinds of professions find it difficult to grasp the ways of the other and find themselves in troubled waters relationship-wise. An app that matches individuals based on their professions can help singles meet like-minded partners and have smoother relationships.
4.) Dating App that Takes Life Goals Into Account for Matching Profiles
It is common for people in relationships to part ways with each other due to distinct life goals. They often choose paths that move in different directions and suffer massive heartbreaks. A dating app that matches individuals that have similar life goals can encourage relationships that are more organic as it helps individuals move in the same directions in life.
5.) Dating App Based on Enneagram Personality Type
Very often, couples complain that opposing personality types are the reason behind their breakup. Personality conflicts become impossible to be resolved as the changes can be taxing. A dating app that matches people based on personality tests like Enneagram test or others like Meyer-Briggs tests can be a huge success.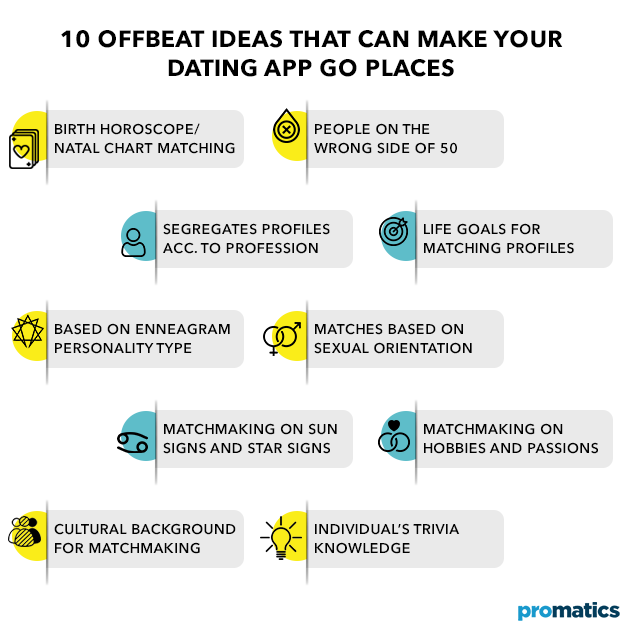 6.) Dating Apps That Segregates Matches based on Sexual Orientation
Not everyone has the same sexual orientation. A dating app that segregated profiles and matches them based on the sexual orientation of individuals would be a massive plus in the dating arena. Matchmaking can be done based on sexual preferences as well.
7.) Dating Apps that Base Matchmaking on Sun Signs and Star Signs
World over, numerous people believe in sun signs and star signs. These signs dictate an individual's personality, behaviour and predictions for the future. A dating app that uses sun signs and star signs for matchmaking can go onto become a cult favourite.
8.) Dating Apps that Base Matchmaking on Hobbies and Passions
Most essential phases of a relationship are the ones where you enjoy each other's company. Pursuing common hobbies, passions and interests is a great way to spend time together. A dating app that matches profiles based on shared hobbies and passions is likely to be successful due to long term relationships it initiates.
9.) Dating Apps that Take Cultural Background into Account for Matchmaking
It is so true that we carry a bit of our progeny in us and it flashes every now and then. Cultural backgrounds hold a distinct significance in everyone's lives. A dating app that takes cultural context into account for matchmaking would likely hit the spot for online dating.
10.) Dating Apps that Makes matches Based on an Individual's Trivia Knowledge
Knowledge is a distinct asset and it varies with intellect. Couples that click intellectually often remain a part of long-lasting relationships. A dating app based on an individual's trivia knowledge can crack the code behind relationship success in online dating.
Future of Dating Apps
Romance as we know is being revolutionized since we are now entering the era of AI-powered dating apps. These innovative platforms employ advanced algorithms and machine learning to revolutionize the matchmaking experience. AI analyzes user behavior, preferences, and interactions to suggest compatible matches, ensuring a more personalized and efficient dating journey. These apps also offer real-time advice and conversation prompts, making initial interactions smoother. Moreover, AI can detect and mitigate fraudulent activities, enhancing user safety. As the boundaries of technology continue to expand, AI-powered dating apps stand at the forefront, promising a future where finding genuine connections is more accessible and fulfilling than ever before.
Conclusion
Those are some of the best dating app ideas for 2023. From the times, it was frowned upon to the times that it is rage, online dating has come a long way. With increasing internet penetration, the dating arena is set to become bigger and better online.
Our team at Promatics believes that there is much scope for new players in the market. We hope that the ten twists that we discussed above will help you come up with creative ideas of your own.
Are you looking for mobile app development? Give us a buzz and we will take care of your dating app idea.