Psychological studies show that humans are attuned to be more perceptive towards all things beautiful. Often described as aesthetic sense, people's preference for symmetry, lack of clutter and beauty spills over to technology and product development as well. Nowhere is human beings' visual sense more prominent than during app development, where an application not only needs to be visually attractive but also must be easy to use and get used to. In technical terms, these factors are clubbed under "user experience" or more simply, UX.
To make sure your application conforms to UX guidelines, a UX professional makes sure that user flows, wireframes and user interface (UI) are tackled before the app development process actually begins. Many clients often get confused with the two terms UX and UI. Both are part of the app development process and are quite inter-related.
Let us take a look at what these two terms mean in the context of app development, and what role they play during a project.
What are UX and UI?
User Experience (UX) helps create the best user experience for users and in the context of app development, UX design helps create an intuitive, user-friendly and aesthetic experience for users. UX designers focus on building workflows, wireframes and an intuitive user interface. However, the process of UX design involves understanding not only client requirements but also the customer and market needs.
To do this
UX designers start with building user personas and user journeys. This helps in building user flows, which gives a clear picture of how a user interacts with the application.
UX designers also build interactive prototypes so that they can test the application and make changes to it before it is actually developed.
Competition analysis is an important aspect of UX design.
User Interface (UI) provides for the medium on which users interact with the application. UI design starts with making the app logo recognizable and ends with providing an intuitive and interactive interface during app usage. UI is part of app UX, and KPIs related to UX depend on how intuitive and interactive UI design is.
UI design involves
Creating mood boards that help clients understand the app idea better.
It also includes visual design such as font, layouts, photography, space, and other elements of visual design.
Dynamic prototypes, which provide a clear picture of what the app is going to look like before an application is developed.
It's important to note that in the context of app development, UX and UI are paired together, and the industry-accepted appellation is "mobile app UX UI design". UX and UI are complement one another and they have a symbiotic relationship with each other.
Importance of UX/UI in app development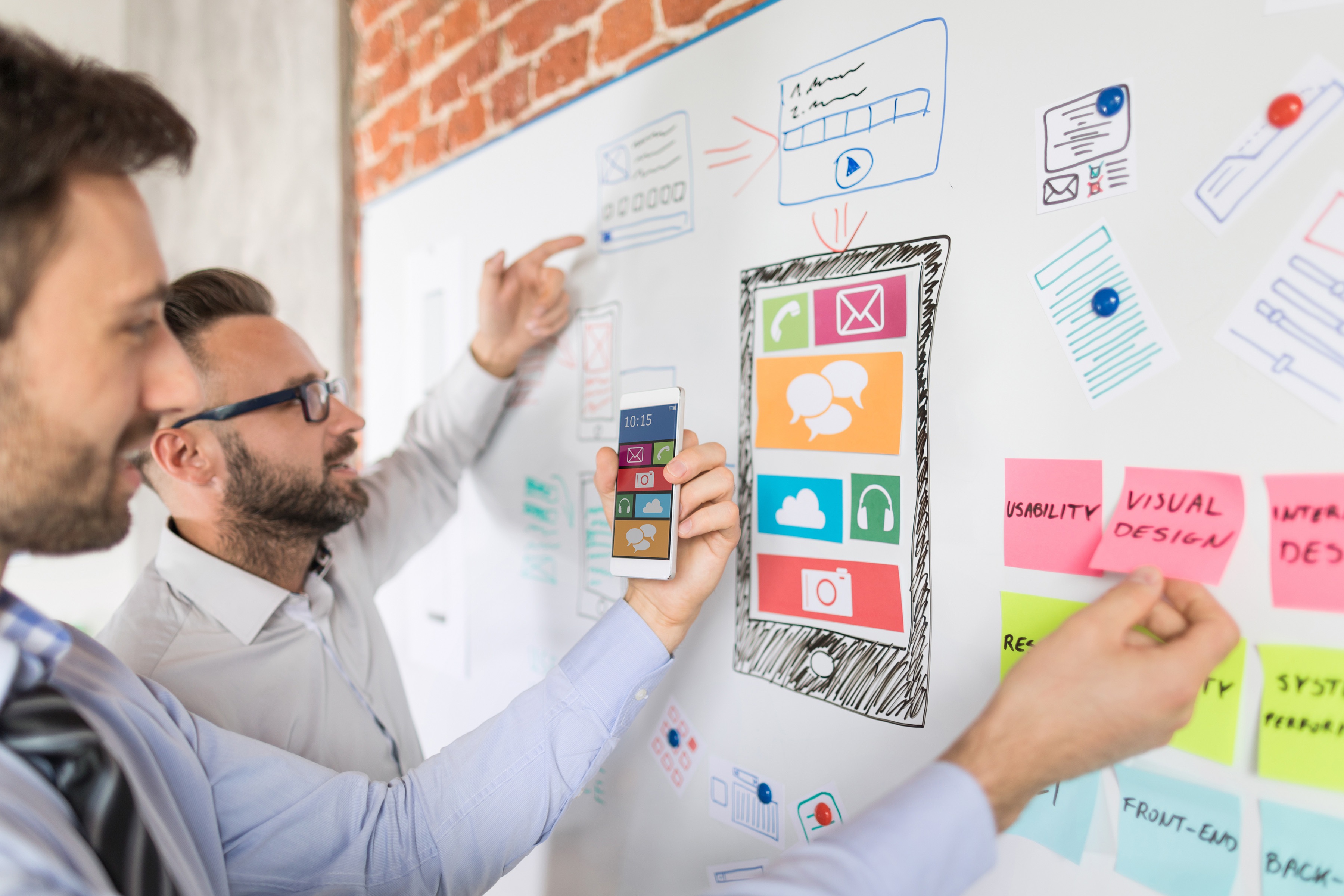 1. Enhance conversion rates
A recent Forrester Research report suggests that frictionless UX design increases conversion rates by 400%. The more intuitive the mobile app UX UI design is, the longer users will spend their time on the app, leading to higher conversion rates. Intuitive UX also encourages users to recommend your application to their peers.
2. Create positive user experiences
90% of app users stop using an application if they sense poor performance while interacting with it. It is important to create a good first impression and assure users that the application performs well. The application needs to be attractive and intuitive right from the moment users start interacting with it to create positive user experiences.
3. Enhance the popularity of your app
You will be shocked to learn that 60% of applications have never been downloaded from app marketplaces. Unless applications receive ratings and reviews by happy users, your application will probably be never found by others. To make sure an application becomes popular and receives the attention it deserves, it is important to focus on UX design.
4. Get people to use your app more often
Customers use 24% of applications they download just once and delete another 57% of them. Even if an application gets downloaded, the chances of it being ignored or forgotten among other applications on a device are very high. An intuitive UX creates memorable experiences for users so that they continue to use the application without forgetting or ignoring it.
How does a UX designer specifically help with app development?
There are three main tasks that UX designers are responsible for.
I.) Build user flows
User flows is similar to sitemaps that are built during web development. App user flows clearly indicate how a user will interact with the application, and what the application is supposed to do in order to address a problem.
II.) Create wireframes
An app wireframe is a two-dimensional illustration of your application's interface. This does not give you an idea of what the application will look like, but helps you understand how the application will work. It is also known as the low fidelity prototype.
III.) Construct UI
UI or user interface is also known as the high fidelity prototype. It creates an interactive simulation of your application before it is built. This provides you with an opportunity to suggest changes or give approval before development begins.
How they put these things together?
UX designers usually follow a 3-step process to put a solution together
A.) Understand your project
To understand what you really want from your application, UX designers start with asking you several questions. The UX design interview tries understand which platform you wish to use, when you want to launch the application, what branding and aesthetic guidelines you have, retrieve source files of old design, comprehend your unique value proposition and collate user feedback. UX design interview goes much deeper and is context-dependent, with your business and your customers being the context.
B.) Prepare UX documentation
UX documentation attempts to put certain things into perspective, such as what problem you are trying to solve with your application, who the audience is and what the solution is going to be. In order to do this, UX designers will identify user personas, conduct market research and engage in competitive analysis. They use these insights to create unique solutions for the target audience's problems.
C.) Create user flows
To create a solution, UX designers use insight form market research and user groups to identify user goals and product tasks. User goals identify what motivates users to use your application and product tasks look at how your application is going to fill the gap in the market. All these aspects will be put together to create user flows.
Tips to enhance UX/UI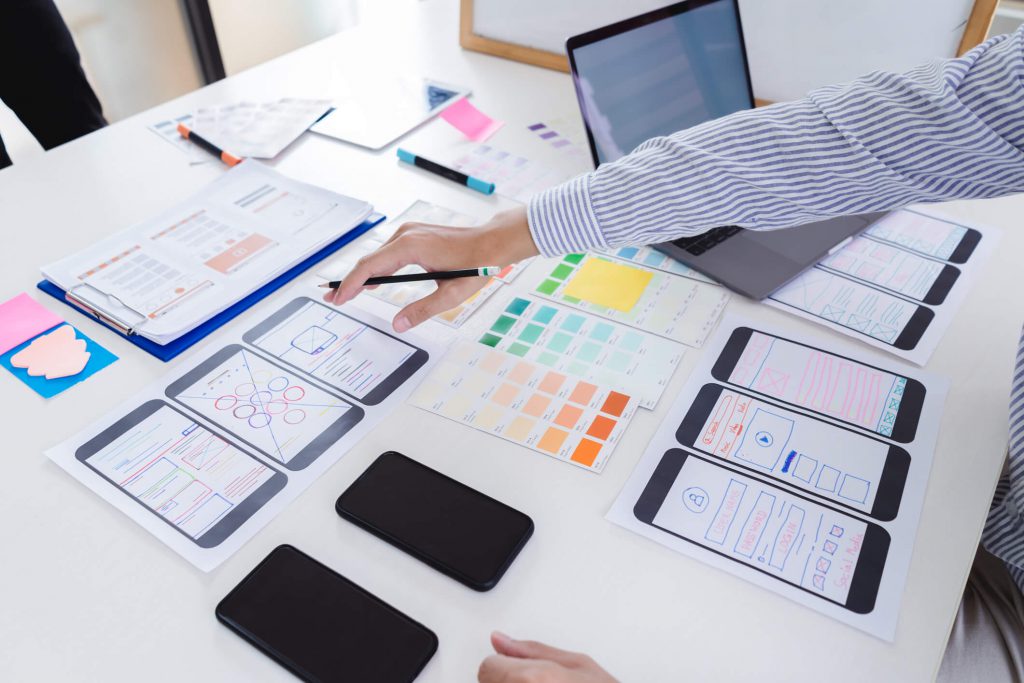 While UX/UI designers take all care to ensure that your application is intuitive and easy to use, there are a few things you can do in order to ensure your app's UX is perfect.
a.) Keep things simple and conventional
It is important to keep your app design and UI simple and conventional. Anything even mildly radical has the risk of distracting the user from actually using it. Conventionality of UX ensures intuitiveness of app interface, as users bring their previous app usage experience to your own application.
b.) Implement uniformity of design
Brand uniformity is a concept that often gets ignored while developing an application. An app's look and feel must match your larger branding aesthetic. It should be immediately recognizable and users must intuitively associate your application with your brand.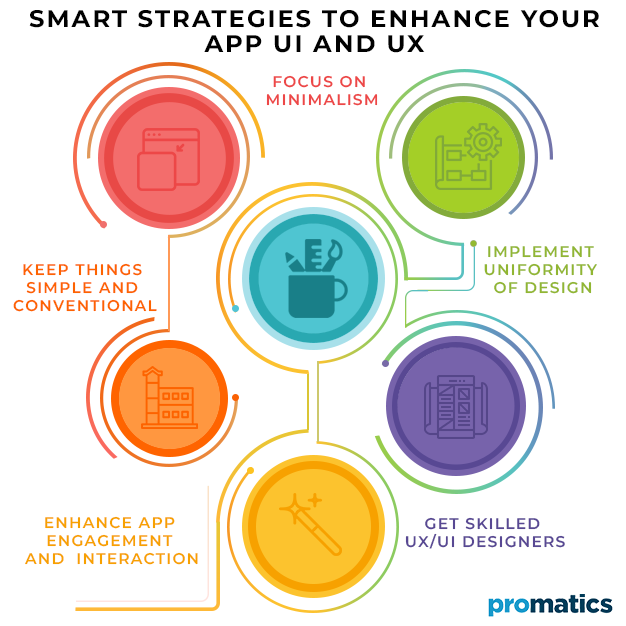 c.) Get skilled UX/UI designers
A number of app developers are great at coding and at the technology that goes behind developing applications, but are not all that familiar with UX and UI design. Hire designers who are skilled in the rules of UX UI design.
d.) Enhance app engagement and interaction
Even after designing UX of a mobile app, it is important to organically encourage engagement and interaction. Gamification of your application is a smart way to enhance app engagement and interaction. While unrelated, marketing your application is necessary to get people to engage with your app as well.
e.) Focus on minimalism
It can't be stressed enough how important minimalism is to present a UX that is clean and intuitive. You must also consider other aspects of minimalism such as keeping technology simple and making customer service more accessible.
Trends to watch
Future trends within UI/UX design include a focus on animation and digital illustrations. Split screen is a new trend that is becoming popular but this may not last for a long time as it goes against minimalist design philosophy. The coming months will see app developers focus more on building voice UI, as more people will start interacting with their devices using their own voice. This means, integration of AI technologies such as natural language processing (NLP), text analysis, voice and emotion recognition will all be part of UX/UI design.
Conclusion
App development is not an easy task, and its success depends not just on the technology used or the coding skills of the development team, but also on the visual and design aspects. Positive user experience depends on how intuitive, aesthetic and minimalist an application is to use.
UX/UI designers help to make sure that an application meets these requirements and enhance user experience. To make this happen, UX designers create user flows and build wireframes before constructing an intuitive user interface.
In order to get the best out of your app development project, make sure that you choose the right UX/UI designer. They will commence the project by understanding your needs and preparing a UX documentation. They may also engage in market research to understand what your customers truly want, before creating user flows that will be used by the development team.